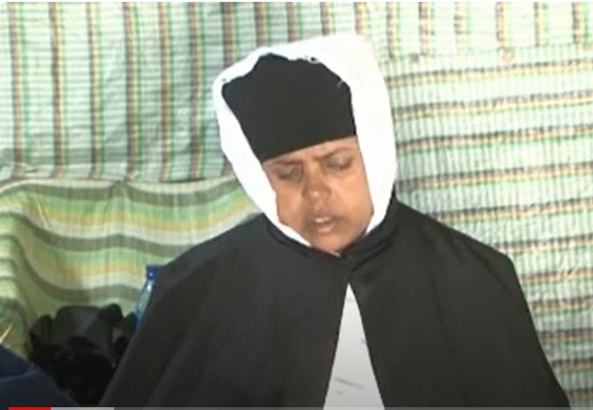 When we hear about the Monastery of Dima Giorgis, the first thing that comes to the mind of most Ethiopians is the famous Amharic novel that was authored by the renowned writer, Haddis Alemayehu, under the title ፍቅር እስከ መቃብር', to mean 'Love till Crypt.'
The Monastery, situated in East Gojjam Zone of Amhara State, and is said to have been built in the 13th century during the reign of Emperor Amde Tsion and the oldest liturgical school, is one of the renowned 'Qene' school (religious poetry) schools within the system of the Ethiopian Orthodox Church. Thus, many clergymen in the Ethiopian Orthodox Church pursued their religious education and graduated in Qene, 'a literary genre of improvised oral poetry from Ethiopia.'
The Monastery, owing to its eminence for generating the most educated ministries in theological orientation, and credited for developing a sophisticated genre called Sem ena Worq (Gold and Wax) which is distinctive to Ethiopia, many young Ethiopian Orthodox faithful were flooding to the area to graduate their education in 'Qene'
In return, many Ethiopians graduated in the area and became famous in Qene and Zema from this Monastery.
As he stated repeatedly, Author Haddis Alemayehu also pursued his religious education and graduated in Qene from this Monastery. His book that is considered to be an outstanding example in Ethiopian literature, 'Fikir Eske Mekabir' also made its setting in this specific Monastery and the surrounding areas.
Currently, the Monastery in its school known as Ye'abinet Timhirt Bet', is carrying out its usual activity and providing indigenous church education, including fidel (alphabets), and reading various devotional books including the Psalm of David, the Miracles of Jesus, Gospel, and the Acts of the Apostles among others and graduating devotees in church education by religious scholars in the church.
Emahoy Hirit Debasu, born and raised in Bete Meskel village, Enemay Woreda of Dima Kebele, in Eastern Gozam Zone of Amhara State in 1972, is one of these people in church who is teaching successors of the Ethiopian Orthodox Church.
Hirit, who was the only daughter in her family, grew up along with her grandmother leading a happy and comfortable life, and when she reached her school age, she went to Dima Primary School to attend her education. There, she attended her 1st and 2nd grade education and while she was going to be promoted to grade three, an incident that no one had expected to happen. Her grandfather, whom she liked most passed away.
The heartbreaking story of his death was told to Hirit while she was at school. Brokenhearted, distressed, Hirit wept bitterly and inconsolably.
As she uttered to the East Gojjam Communication Bureau, as she was crying bitterly exposing her eyes to the sun, the ray coming out of the sun harmed her eyes which led her to lifelong blindness. Since that time, the life of Hirit changed completely.
Her family, shocked by the situation, took her to the nearby church to pray, bathe and drink holy water thereby get cured. In response, though she got some relief and had a chance to see a glimmer of light for some time, she could not regain her sight at all. She completely lost her sight once and for all. At the same time, the chapter of her school life in modern education closed.
Even though the unfortunate incident worried and caused great panic in the whole family, hoping for good, Hirit started attending her church education determinedly as it does not require eyesight.
Luckily, she completed Wudasie Mariam, a hymn of praise dedicated to the Virgin Mary, the mother of Jesus Christ, in both melody and interpretation successfully. She also became enthusiastic to extend her education to 'Qene.'
However, going out of the house and spending time in churches was not an acceptable act for Hirit's mother though her father supported and encouraged her to further her education. Hirit's mother, fearing the gossip of the surrounding people, and not to let others mock her daughter, she strongly opposed Hirit's education. The frequent argument between the couple disturb the peace of Hirit more than her illness.
Finally, Emahoy Hirit, who was impressed little by little by the church education given in her area, decided to go far away, get a better education and extend her schooling. And she did it. She moved to Dima Giorgis Monastery and continued her study.
However, for the reason the Monastery is not that far from her birthplace and the news of her family was coming to her uninterruptedly; she decided to go further and headed to Deboth Michael then Debre Worq and Chegode Medihanialem synagogues. Finally, after studying 'Qene' and interpretation of Hadith effectively she graduated.
Currently, Emahoy Hriti is a poetry teacher at Dima Giorgis Monastery. As she told the East Gojjam Communication Bureau reporter, studying Qene demands reading and understanding books kept in churches. Thus she was attentively listening to materials that were read and shared for her to let her understand the accounts. "I was good enough in grasping what were for me quickly and proficiently," she added.
Emahoy Hirit Dabas, at present, is one of the scholars of the church in Gojjam, who is known for teaching 'Qene' and interpretation of books. And since 2005, she has been serving as a teacher of poetry for successor church scholars at the Dima Giorgis Monastery.
In addition to the lessons currently being taught to male poetry students, Emahoy has opened congregations for 30 females coming from different countries and is teaching Wudasie Mariam, a hymn of praise dedicated to the Virgin Mary, A Psalm of David, 'Qene' and interpretation of books.
However, according to her, because the environment is not convenient for girls to move around the village and beg for sustenance, some sisters quit their lessons as they cannot cope with the problems they face.
Luckily, these days the problem is resolved to some extent for the reason Mahebre Kidusan is providing support to some students.
"The reason that obliged me to attend my church education unwaveringly is my blindness. Because I lost my eyesight when I was a child, I followed my studies considerately. I take that as an opportunity created to serve God. I did not realize at the time that incident would completely reshape my life. Whatever it is, however, I praised God for his good deeds," she said.
Mentioning that there are still many young men and women who are interested in attending church and learning church education, Emahoy underlined the time, hard work, energy, persistence, and commitment the study demands.
But in order to pass this education and interpretation of books, which is the unique wisdom of Ethiopia, to the next generation, it is necessary to back the activities in every possible way ranging from support in terms of money, basic needs and other forms, Emahoy Hirit concluded.
BY ELIZABETH MENGISTU
The Ethiopian Herald September 21/2023