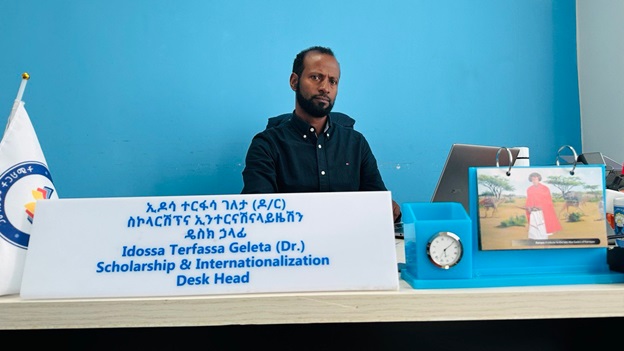 ADDIS ABABA – The government of Ethiopia has given due emphasis to the developments of the education system through scholarship schemes in a bid to promote the capacity of higher education institutions, the Ministry of Education (MoE) said.
Approached by the Ethiopian Press Agency (EPA), Scholarship and Internationalization Desk Head with the Ministry, IdossaTerfassa (PhD) said that as part of the national education strategic plan, the ministry along with global institutions and higher education institutions has long been engaged in various interventions to improve and realize its vision through enhanced bilateral ties with various international institutions.
He further remarked that through consolidated efforts, for example, Ethiopia has been sending students to Russia, China, Taiwan, German, France, Norway, among others for degree, masters and PhD levels. Currently, we are strengthening our bilateral and multilateral relations more than ever before for the development of the education system in the country.
He said, "Development of digital literacy, education facilities and technology transfer are the major thematic areas of the sector in the form of free scholarship, experience sharing, visiting, short and long term trainings among others."
As to him, among many other sponsor awarding countries, China offers full scholarship awards to over 50 Ethiopian students through government-to-government scholarship scheme annually.
Furthermore, the Middle East countries are also increasing the level thereby awarding some 273 students for first degree education last year, he added.
So far, about 1,000 scholarships have been awarded to the Ethiopian students in the global arena, it was learnt.
"We have planned to scale up the number by two folds through multifaceted policy interventions and negotiations, including memorandum of understanding that help build the capacities of higher education institutions thereby many countries are expressing keen interest to strengthen the intervention," he noted.
As per the diplomatic channels and revised MoU documents, he said that they are striving for boosting the existing levels and reaffirms commitment to offer chains of technical supports such as bank related issues and authentication processes for public-scholarship winners.
BY ASHENAFI ANIMUT
THE ETHIOPIAN HERALD SUNDAY EDITION 17 SEPTEMBER 2023