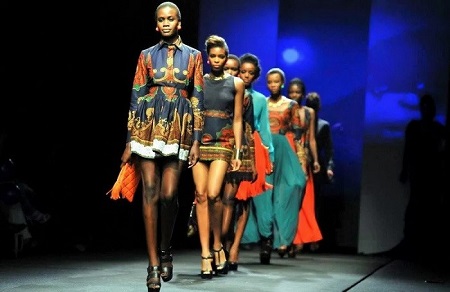 Simply put, the international fashion industry is a multibillion-dollar global enterprise devoted to the business of making and selling clothes. However, the clothing industry and the fashion industry are not one and the same. It is important to make a distinction between the two. "Fashion design deals more with the generation of ideas, whereas the clothing industry produces the garments that are generated from the design ideas." Designing in the fashion industry consists of creating, fashioning, executing or producing according to plan. What they call "the seven elements of design are form, shape, line, color, texture, typography and space."
No doubt that designing is the backbone of the modern fashion industry. In fact most industries operate on the basis of specific designs before they enter into the production process. Any modern industry is inconceivable without the designing stage. Designing is like the outline or plot of stories in literature. It is the earliest of the creative process. It is the design of the novel or any creative output. Designing in art form "is the method of human expression that follows a system of highly developed procedures in order to imbue objects, performances, and experiences with significance. Like all art forms, designing has the potential to solve problems…"
Mr. Shubham Anil Jain, a blogger who is also an insider of the Indian fashion and closing industry, recently wrote that "Fashion is one of the most creative and fascinating fields of art and expression. It is a form of art and skill where one can use their own unique imagination and skills to create new styles, trends and outfits. Fashion is best described as the style or styles of pairing clothes in a classy and unique way."
Africa has recently become the hub or mainstay of the fashion and textile industry due to the ongoing modernization of the traditional clothes making industry that has a long history across the continent. "The fashion and textile industry is Africa's second largest post-agricultural sector, with its market value worth 31 billion dollars by 2020 and increasingly annually.
The fashion industry is a marketing and production model in which clothing is moved from the runaway to major retails in second." Fashion is therefore big business in Africa which is growing at an unprecedented pace because of globalization of the fashion industry in general and the introduction of high-tech designing and production techniques in the industry.
According to related information, the number one country in fashion in Africa is Nigeria. "In just the past few years, Nigeria has become Africa's fashion capital. Recognized by some of the world's most renowned fashion editors and industry insiders, Lagos Fashion Week and Arise Fashion Week in particular have earned supermodel Naomi Campbell's seal of approval."
Writing about the future trend in the fashion industry in Africa, another blogger says that, "A growing middle class (i.e.in Africa) has money to spend on clothes and are taking an increasing interest in what they were. Africa's wealthy elite is also growing, and the continent is one of the fastest growing market for luxury goods. That's particularly the case in Nigeria, where a fashion-conscious population is enjoying a high economic growth rate, but many other countries in Africa are experiencing a rise in both wealth and interest in fashion."
Similarly, the Ethiopian fashion industry is growing fast parallel to apparel or textile industry. "Ethiopia has a rich history of traditional hand-woven textiles which are unique and beautifully delicate. The country is one of the fastest growing countries on the African continent and the textile end fashion industry is expanding and spreading all over the country…The beauty of the textile industry in Ethiopia is that within the country we find cotton farmers, spinners, weavers-the "shamane's" and we find designers who work with the traditional woven textiles-the whole chain."
In Ethiopia, a new generation of fashion-savvy youngsters are feeding the fashion industry and parallel to this a new brand of Ethiopia designers have emerged at the height of the economic boom that allowed consumers enjoy their own traditional clothing presented in a new and fashionable form that reflect the ever changing global fashion world. The art of combining traditional weaving with modern design and marrying both to the emerging design and development in textile fabrics is apparently behind Ethiopia's presently explosive fashion industry despite the ups and downs in market demands and export opportunities. It is estimated that there are more than 60 textile factories in Ethiopia that are supplying for domestic as well as foreign markets.
The emergence of new industrial zones has been conducive to the boom in the textile and garment sector elsewhere in the country, which has promising growth in the future as the country develops and the demand increases among the budding generation of youngsters who are fond of wearing 'modern' traditional clothes without totally abandoning global brand names.
Behind the design and fashion revolution are a new crop of mainly female designers whose name and achievements are well-known both at home and abroad. The Ethiopian Airlines in-flight magazine Selemata once wrote that "As one of Africa's fastest-growing economies, Ethiopia is also becoming a new hub for global fashion manufacturing. But it's the homegrown contemporary labels who are putting the country on the fashion map with the sustainable, locally inspired designs. Supermodel Liya Kebede is behind Lem Lem, which harnesses artisanal weaving to offer premium resort wear."
Another Ethiopian design guru the magazine mentioned was Genet Kebede, who celebrated 30 years in the industry in 2022. According to Selamta magazine, "Born in Addis Ababa, Genet originally studied fashion in Italy and Argentina before returning home to establish her label, Paradise Fashion, in 1992." There are also other famous female fashion designers like Mahlet Afewerk, Abai Schultze, Fikirte Addis and others who have led the fashion revolution in Ethiopia and are still going strong despite the global economic difficulties that have also impacted the fashion and garment industries.
These trailblazing Ethiopian women fashion designers are well-established in the African and global fashion industries. Unfortunately, they are not well-known here in Ethiopia, where the culture of fashion shows and designing innovations is not yet well-developed. Fashion houses can be counted on the fingers of a single hand and new designers do not seem to be attracted to the profession maybe because it is not sufficiently advertised and the opportunities are not readily visible. The design industry in particular is almost shrouded in anonymity as it is rarely enjoying media coverage or sufficient investment. The other surprising fact is that the fashion industry in Ethiopia is almost exclusively the domain of women while elsewhere young and established male fashion designers are easily available, proving to the world that fashion is not gender exclusive. The outlook for the future is sure to be better than it is now because male fashion designers will surely be attracted to the sector as women continue to make progress and reap the benefits.
The outlook is not however entirely gloomy because the current economic difficulties are going to give way to better times when local and expatriate designers might set shop in the budding Ethiopian capital Addis Ababa and fashion shows will become more frequent and young Ethiopians emerge from anonymity to fame as Liya Kebede and her colleagues have done in the recent past. Ethiopians, like almost all Africans, love to wear fashionable apparels both as a show of class or as a personal preference.
After all who does not like to be seen and admired in the latest designs and enjoy the feel good mood that this can bring to them? Ethiopian youths are increasingly attracted to home-designed and home-made fashionable apparels. This is a new and more visible scenario and anyone can get the spirit of freedom these people are enjoying wearing the finely designed products of the national couture which are not only colorful but also newly designed and cheaper than foreign products that are imported for special occasions.
Ethiopian fashion designers have already proved their mettle by offering the public with new choices that are of high quality and even better than those produced by centuries-old fashion houses in Europe or the United States. Ethiopian couture is accepted by the local public. This can be seen in the number of people who wear beautiful traditional clothes during festivals and holidays, adding bright colors to the celebrations. It has now become the rule to see children, young as well as senior citizens, in Ethiopia at weddings and music shows wearing amazingly beautiful male and female garments made in Ethiopia by Ethiopians.
The outlook for the future for African fashion industry cannot be but brighter than its present status. According to recent analysis of the fashion industry, "The future of African fashion looks bright, with more and more designers brands and design houses making their mark on the global fashion scene. From sustainable materials to traditional techniques, the African fashion industry is embracing new trends and predictions that are shaping the future of fashion in Africa."
BY MULUGETA GUDETA
THE ETHIOPIAN HERALD FRIDAY 29 SEPTEMBER 2023