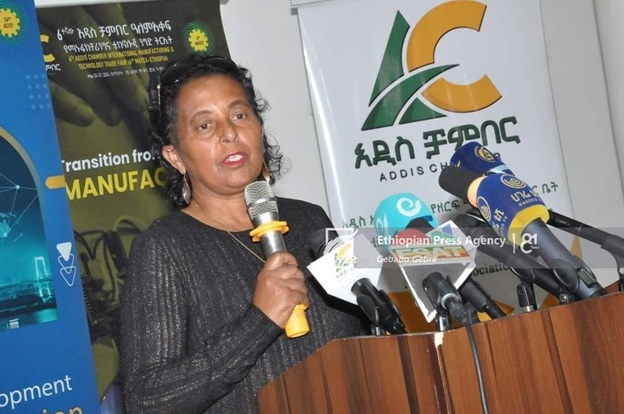 ADDIS ABABA –The Addis Ababa Chamber of Commerce and Sectorial Association (AACCSA) revealed a plan to host international trade fairs that it said would help catalyze business and investment ventures among actors.
At the official launching event held on Tuesday, AACCSA President Mesenbet Shenkute said that Addis Chamber has a reputation in organizing grand business promotion events annually that are proven successful in boosting business networking. The events have also been playing a vital role in promoting trade and investment.
Trade fairs are of great importance to promote products, explore markets and create business networking that could be concluded in joint ventures and partnerships among the business community. The association has also been regularly organizing international trade fairs with a view to advancing marketing and sales opportunities as well as business interconnection between local and foreign firms.
Lauding the government's involvement in the establishment and expansion of industrial parks across the country, Mesenbet indicated the formation of capital market is a turning point and big milestone for the private sector. The capital market is expected to expedite the foreign direct investment inflow and galvanize the export sector.
"Ethiopia's BRICS membership would also open a new window of opportunity for Ethiopia's private sector to secure a vast and competitive market and enhance competitiveness."
She called on Ethiopian business persons in home and Diaspora to exploit opportunities that future editions of international business shows would create.
For AACCSA Secretary-General Shibeshi Betemariam, the chamber, while embracing hundred thousand members of the business community, has been hugely engaged to spur trade investment in the country. "Our extensive involvement in business promotion is the manifestation for this."
Over hundred international companies drawn from eight countries with different services are expected to take part in the planned trade fairs which would in turn contribute to foreign exchange earnings, capital investment and innovation and technology.
Apart from presenting Addis as a regional and global business hub, such events would have broader outcomes in promoting Ethiopia's positive image and catalyzing its sustainable economic progress, Shibeshi added.
Owing to the ever increasing number of participants, the chamber is currently regarded as one the largest international trade fairs organizers in the continent and the events would see the involvement of hundreds of domestic and global firms.
The secretary general affirmed the association's firm commitment to extend holistic support to the private sector in terms of business promotion, capacity building, and creating a conducive business climate among others.
BY ASHENAFI ANIMUT
The Ethiopian Herald September 21/2023