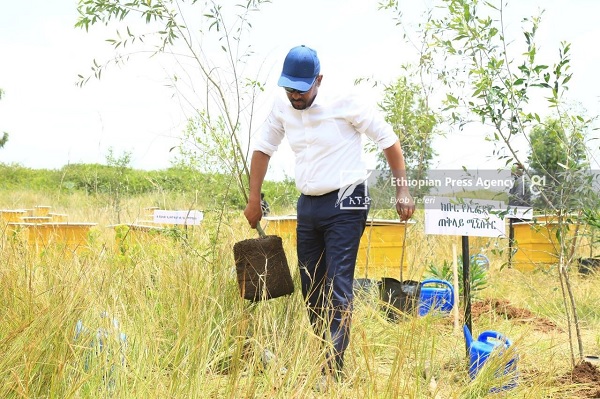 – Experts laud gov't achievements in greening campaigns
ADDIS ABABA-At the completion of this year's Green Legacy season, Ethiopians achieved more than the intended target and have collectively planted 7.5 billion saplings nationwide, Prime Minister Abiy Ahmed (PhD) said.
In his social media post, Premier Abiy stated that the strong and resilient hands of Ethiopians continue to make history. "The government honors the hard work and perseverance shown by our people."
Commenting on the issue to EBC, experts in the area lauded the initiative's outcomes in restoring the large size of severely degraded land and increasing the country's forest coverage.
Accordingly, the Ethiopian Biodiversity Institute Deputy Director General FelekeWoldeyes said the initiative has achieved a tangible result in increasing the country's forest coverage and recovering the vegetation-dependent ecosystem. "Prior to the Green Legacy, we planted trees arbitrarily and the initiative changed this practice and now attention has been given to indigenous and edible species which will go along with different ecosystems. "
Ethiopia is one of 25 world countries having rich biodiversity and the initiative is instrumental to preserve its natural resource ranked high by global institutions.
The 25 billion trees, which have been planted during the past phase of the initiative, are also crucial to restore the damaged ecosystem and the contribution of such plants cannot be undermined, Feleke emphasized.
According to him, the past years' greenery campaigns have resulted not only in increasing vegetation coverage; but also support the food security programs. The agricultural system is also adopting dual purpose plants like fruits.
Associate Professor of Ecology and Head of Plant Biology and Biodiversity Management at Addis Ababa University, BikilaWorkneh (PhD) noted for his part that there was a big gap to address deforestation in Ethiopia until the initiative.
Taking afforestation as a big agenda by itself can facilitate greening campaigns nationwide. More importantly, the Prime Minister's commitment in leading the campaign has already transformed the communal belief about planting and now the public is overwhelmingly involved for the success of the initiative.
"Plants are considered as the most intelligent living things on the earth because they can produce the most essential things using only water, air and soil easily. So, the campaign to plant trees with such outstanding campaigns is beyond biodiversity," the scholar added.
Another environmentalist, David Vally also indicated the afforestation campaign can help to restore fertility of soil, so the amount of artificial fertilizer would be decreased. "We can never be self-reliant while importing fertilizers from abroad. Accordingly, we need to substitute the artificial fertilizer through restoring degraded lands; and the solution is planting trees."
BY YESUF ENDRIS
THE ETHIOPIAN HERALD TUESDAY 19 SEPTEMBER 2023